Dr. Fanny Wonu Veys
Fanny Wonu Veys is curator Oceania at the National Museum of World Cultures, a Dutch umbrella organization comprising the Tropenmuseum, Amsterdam; Museum Volkenkunde, Leiden; the Afrika Museum, Berg en Dal; and the Wereldmuseum, Rotterdam. She has previously worked at the Museum of Archaeology and Anthropology in Cambridge (UK) (2004–2006, 2008–2009) and has held postdoctoral fellowships at the Metropolitan Museum of Art (New York) (2006–2007) and at the Musée du Quai Branly (Paris) (2007–2008).
She curated the Mana Māori exhibition (2010–2011) in Leiden and published a book with the same title. She co-curated a barkcloth exhibition Tapa, Étoffes cosmiques d'Océanie in Cahors (France).
Her fieldwork sites include New Zealand (since 2000), Tonga (since 2003) and more recently Arnhem Land, Australia (since 2014). Her topics of interest and expertise include Pacific art and material culture, museums and cultures of collecting, Pacific musical instruments, Pacific textiles, and the significance of historical objects in a contemporary setting. She has published numerous articles in journals and books. Her most recent single-authored book is Unwrapping Tongan Barkcloth: Encounters, Creativity and Female Agency (Bloomsbury, 2017).
Books by Fanny Wonu Veys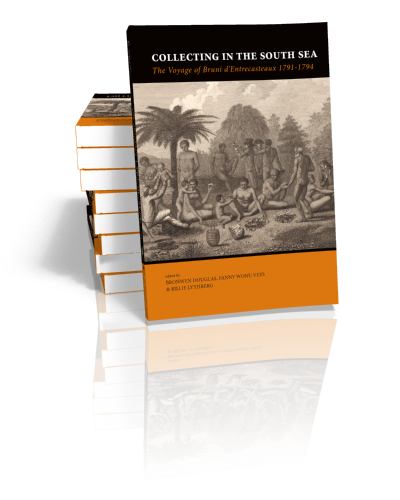 Collecting in the South Sea
The Voyage of Bruni d'Entrecasteaux 1791-1794
Edited by Bronwen Douglas, Fanny Wonu Veys, and Billie Lythberg | 2018
This book is a study of 'collecting' undertaken by Joseph Antoine Bruni d'Entrecasteaux and his shipmates in Tasmania, the western Pacific Islands, and Indonesia. In...