Drs. Evert van Ginkel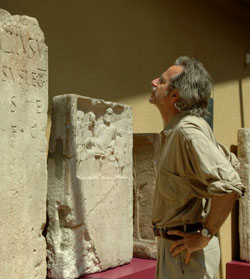 Van Ginkel has been making exhibitions, audiovisuals and books about Dutch archaeology and history since 1983. His goal is to continue doing the same for as long as possible, together with a lot of colleagues who share his interests and sense of fun. Parallel goal: to get to know his audience.
Van Ginkel has been for the past twenty-five years, writing about archaeological and historical subjects for a general audience; making understandable and accessible exhibitions; making low-budget but effective audiovisuals on the same subject; and giving honest advice on all of these subjects and more.
He is the founding father (1990) of TGV Tekst en en Presentatie together with Iris Toussaint and Marjorie in 't Veld of the first specialised archaeological presentation firm in the Netherlands; current partners are Iris Toussaint, Birgit van den Hoven and Yuri van Koeveringe. Van Ginkel was chairman of Vereniging Archeologie en Publiek/VAP (1989-1993), duo-chairman of Vereniging Ondernemers in Archeologie/VOiA (2000-2004) and since 2009 treasurer of Stichting Archeologie en Publiek/SAP. Awards: Vlag en Wimpel (Flag and Pennant) for De Onderkant van Nederland (1983), Gouden Scarabee (Golden Scarabaeus) for combined oeuvre (1999) and Lintje van de Boekverkoper (Bookseller's Badge), together with Leo Verhart, for Onder Onze Voeten (2010).
External link: Evert van Ginkel's personal homepage
Books by Evert van Ginkel