Prof Dr. Philipp W. Stockhammer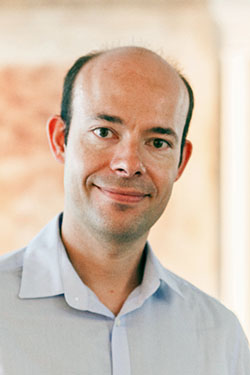 Philipp W. Stockhammer is professor for prehistoric archaeology with a focus on the Eastern Mediterranean at Ludwig-Maximilians-University (LMU) Munich and co-director of Max Planck-Harvard Research Center for the Archaeoscience of the Ancient Mediterranean, Jena. His research focuses on the transformative power of intercultural encounters, human-thing-entanglements, social practices and the integration of archaeological and scientific interpretation. From 2015-2018, he acted as Speaker of the Collaborative Research Project "BEFIM". He published monographs on Urnfield swords, pottery of the post-palace period in the lower city of Tiryns, the appropriation of foreign pottery in the Eastern Mediterranean Late Bronze Age, and countless papers.
__
Philipp W. Stockhammer ist Professor für Vor- und Frühgeschichtliche Archäologie mit Schwerpunkt Ostmittelmeerraum an der Ludwig-Maximilians-Universität (LMU) München und stellvertretender Direktor am Max Planck-Harvard Forschungszentrum für die archäologisch-naturwissenschaftliche Erforschung des antiken Mittelmeerraums in Jena. Seine Forschungsschwerpunkte liegen im Bereich der transformativen Kraft interkultureller Begegnungen, von Mensch-Ding-Verflechtungen, sozialen Praktiken und der Verbindung von archäologischer und naturwissenschaftlicher Interpretation. Von 2015-2018 war er Projektleiter des Verbundforschungsprojekts BEFIM. Er hat Monographien zu urnenfelderzeitlichen Vollgriffschwertern, zur Keramik der Nachpalastzeit aus der Unterstadt von Tiryns, der Aneignung fremder Keramik in der ostmediterranen Spätbronzezeit und zahllose Aufsätze verfasst.
Books by Philipp W. Stockhammer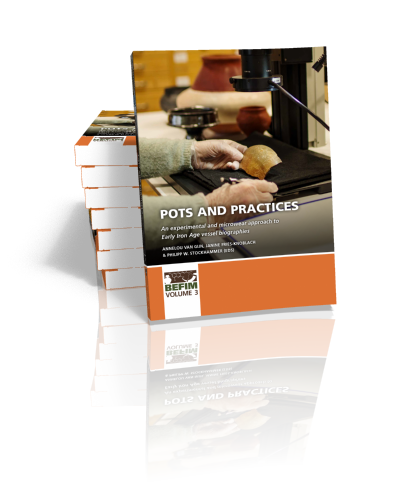 Pots and practices
An experimental and microwear approach to Early Iron Age vessel biographies
Edited by Annelou van Gijn, Janine Fries-Knoblach & Philipp W. Stockhammer | 2020
This third volume of the BEFIM series addresses the life history of vessels from the Early Celtic hillfort settlements of Heuneburg and Vix-Mont Lassois, from a detailed examination of the manufacturing process to the use…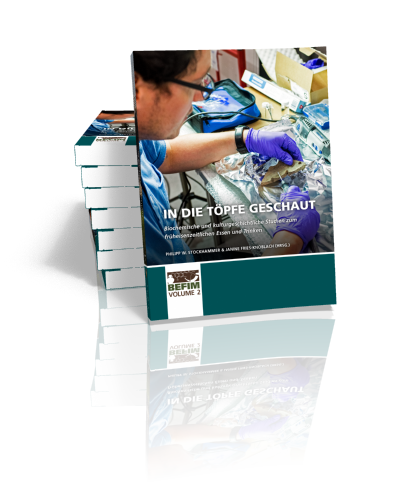 In die Töpfe geschaut
Biochemische und kulturgeschichtliche Studien zum früheisenzeitlichen Essen und Trinken
Edited by Philipp W. Stockhammer & Janine Fries-Knoblach | 2019
Band 2 der BEFIM-Reihe enthält sechs Beiträge des BEFIM-Teams und enger Kooperationspartner. Die Zwischenberichte aus Band 1 werden darin vertieft, abgeschlossen und in Gesamtinterpretationen eingebettet. Ein einleitender Artikel befasst sich einführungs- und überblicksartig mit der…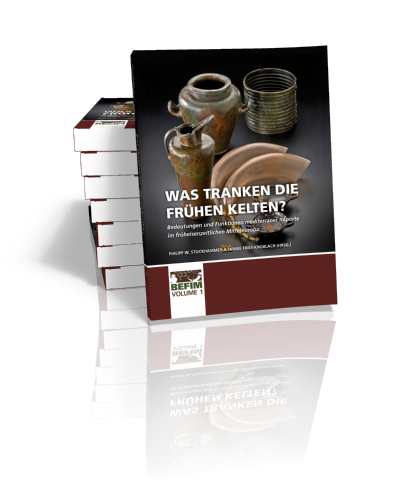 Was tranken die frühen Kelten?
Bedeutungen und Funktionen mediterraner Importe im früheisenzeitlichen Mitteleuropa. Internationale Konferenz Kloster Weltenburg 28.04.-01.05.2017.
Edited by Philipp W. Stockhammer & Janine Fries-Knoblach | 2019
Was die sogenannten "frühen Kelten" tranken, weckt seit über hundert Jahren das Interesse der Wissenschaft und der Öffentlichkeit. Funde mediterraner Importkeramik ließen Forscher_innen schon früh vermuten, dass den "Kelten" vor allem an einer Nachahmung mediterraner…