Dr. Olivier Nyirubugara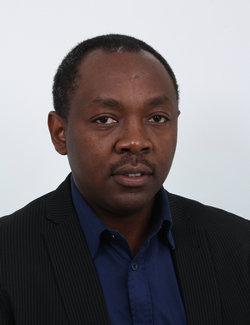 Dr. Olivier Nyirubugara is lecturer in Journalism, Media Theory, and International Communication Management at The Hague University of Applied Sciences. Between 2012 and 2016 he lectured New Media and Online Journalism at Erasmus School of History, Culture and Communication (Erasmus University Rotterdam).
His main areas of publication include cultural heritage, cultural memory, history education, and digital media.
Some key publications
Nyirubugara, Olivier (2013) Complexities and Dangers of Remembering and Forgetting in Rwanda (Leiden: Sidestone Press). Memory Traps Vol. 1
Nyirubugara, Olivier (2012) 'Non-mediated Archives: Naming as a Human Right Issue ', in Engen, H. van, Janssens, G., Kwanten, G. & Pompe, K.M., (Eds.), Archives without Borders (VVBAD),pp. 189–195
Nyirubugara, Olivier (2012) 'Remembering and Forgetting in Post-genocide Rwanda', in Meiner, Carsten / Veel, Kristin (Eds.), The Cultural Life of Catastrophes and Crises (Berlin: De Gruyter), pp. 115–124
External link: Olivier Nyirubugara's personal homepage
Books by Olivier Nyirubugara