Prof. dr. Johannes Müller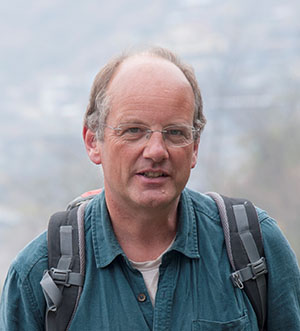 Johannes Müller (PhD, University of Freiburg, 1990) is a Professor and Director of the Institute for Prehistoric and Protohistoric Archaeology at Kiel University, Germany. He is the founding director of the Johanna Mestorf Academy, Speaker of the Collaborative Research Centre "Scales of Transformation: Human-environmental Interaction in Prehistoric and Archaic Societies" and of the Excellence Cluster "ROOTS – Social, Environmental, and Cultural Connectivity in Past Societies".
He conducts research on Neolithic and Bronze Age Europe, including the challenge of interlinking natural, social, life sciences, and the humanities within an anthropological approach of archaeology. Intensive fieldwork was and is carried out in international teams, e.g., on Tripolye mega-sites in Eastern Europa, the Late Neolithic tell site of Okolište in Bosnia-Hercegovina, different Neolithic domestic and burial sites in Northern Germany, and Early Bronze Age sites in Greater Poland. Ethnoarchaeological fieldwork has been conducted, e.g., in India. Within the Kiel Graduate School "Human Development in Landscapes", now the Young Academy of ROOTS, and the Scandinavian Graduate School "Dialogues of the Past", Johannes Müller promotes international PhD projects.
Key publications: Johannes Müller
Müller, J. and Diachenko, A. 2019. Tracing long-term demographic changes: The issue of spatial scales. PLoS ONE 14, e0208739.
Müller, J., 2019. Boom and bust, hierarchy and balance: From landscape to social meaning – Megaliths and societies in Northern Central Europe, in: Müller, J., Hinz, M., Wunderlich, M. (eds.), Megaliths – Societies – Landscapes. Early monumentality and social differentiation in Neolithic Europe. Dr. Rudolf Habelt GMBH: Bonn, 29-74.
Müller, J., 2018. Social memories and site biographies: construction and perception in nonliterate societies, in: Bakels, C.C., Bourgeois, Q.P.J., Fontijn, D.R., Jansen, R. (eds.), Local communities in the Big World of prehistoric Northwest Europe. Analecta Praehistorica Leidensia 49. Sidestone Press: Leiden, 9-17.
Müller, J., Arponen, V.P.J., Hofmann, R., Ohlrau, R. 2017. The Appearance of Social Inequalities: Cases of Neolithic and Chalcolithic Societies. Origini 38 (2015-2), 65-86.
Müller, J., Rassmann, K., Videiko, M., 2016. Trypillia Mega-Sites and European Prehistory: 4100- 3400 BCE. Themes in Contemporary Archaeology. London: Routledge.
Müller, J. and Peterson, R., 2015. Ceramics and Society in Northern Europe, in: Fowler, C., Harding, J., Hofmann, D. (eds.), The Oxford Handbook of Neolithic Europe. Oxford: Oxford University Press.
Müller, J., Hinz, M., Ullrich, M. 2015. Bell Beakers – Chronology, Innovation and Memory. A Multivariate Approach, in: Martinez, M.P.P. and Salanova, L. (eds.), The Bell Beaker Transition in Europe. Oxford: Oxbow, 57–68.
Müller, J., 2014. 4100–2700 B.C. Monuments and Ideologies in the Neolithic Landscape, in: Osborne, J.F. (ed.), Approaching Monumentality in Archaeology. New York: New York University Press, 181–217.
Books by Johannes Müller