Dr. Billie Lythberg
Billie Lythberg has been senior research fellow at the University of Auckland Business School (NZ) since 2013, working at the junction of economics, anthropology, and history. Her research interests include Oceanic sciences, arts, and oral histories; cross-cultural theories of value, valuables, and valuation; sustainability and environmental management; and social innovation.
She was previously a postdoctoral fellow at Cambridge University's Museum of Archaeology and Anthropology (MAA, UK) for the Artefacts of Encounter project (2010–2013). She is currently affiliated to Pacific Presences (MAA, UK) and Pacific Spaces (Auckland University of Technology, NZ) and an investigator on three Royal Society research projects at the University of Auckland: Te Ao Hou: Transforming Worlds in New Zealand 1900–1950, Ancient Futures: Late 18th- and Early 19th-century Tongan Arts and their Legacies, and Tāngata Tiriti: Learning the Trick of Standing Upright Here.
She has published extensively in journals and books, co-edited special issues of the Journal of Material Culture (17, 2012) and the Journal of the Polynesian Society (forthcoming 2018), is on the editorial board of the Journal of Pacific History, and is Contributing Editor for Arts of Oceania to SmARThistory, the official partner to Khan Academy for art history. She co-edited (with Nicholas Thomas, Julie Adams, Maia Nuku, and Amiria Salmond) Artefacts of Encounter: Cook's Voyages, Colonial Collecting and Museum Histories (University of Otago Press, 2016).
Books by Billie Lythberg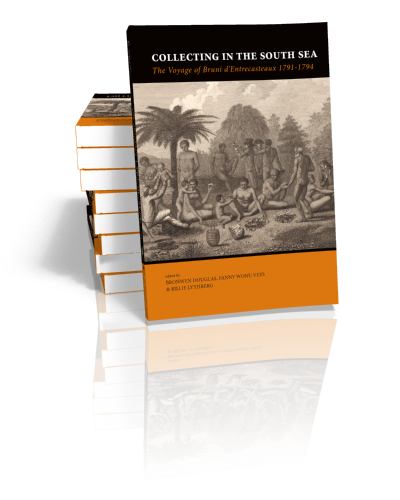 Collecting in the South Sea
The Voyage of Bruni d'Entrecasteaux 1791-1794
Edited by Bronwen Douglas, Fanny Wonu Veys, and Billie Lythberg | 2018
This book is a study of 'collecting' undertaken by Joseph Antoine Bruni d'Entrecasteaux and his shipmates in Tasmania, the western Pacific Islands, and Indonesia. In 1791–1794 Bruni d'Entrecasteaux led a French naval expedition in search…