Dr. Nicholas C. Flemming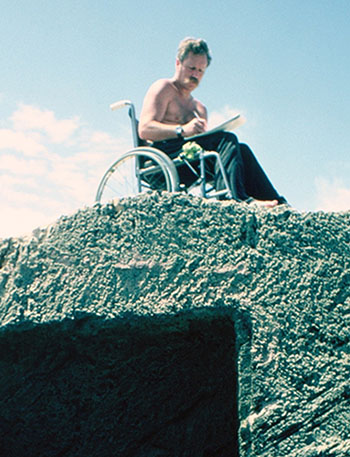 Nic Flemming was employed by the National Oceanography Centre, Southampton, and the European Office of the Global Ocean Observing System (EuroGOOS).
He learned to dive breathing pure oxygen in the Royal Marines Special Boat Service in 1956. During study for an undergraduate degree at Cambridge University, followed by a PhD research project, Nic used his military diving experience and the skills of flying light aircraft to improve scientific research under water by diving and submersibles. Employment by a commercial marine technology organization required travel right round the world in 1965-67, after which he joined the National Institute of Oceanography. He has published more than 300 scientific and technical articles and several books, as selected below. From 1996 to 2001 he was Director of the European Global Ocean Observing System. From 2009 to 2013 he was a UK delegate to Submerged Prehistoric Archaeology and Landscapes of the Continental Shelf (SPLASHCOS) and edited one of the final books from that Project.
Nic has been a member of many national British government bodies, international bodies and voluntary organizations. This includes appointments as Chair of the British Sub Aqua Club, Chair of the Underwater Association, Honorary Secretary of the Society for Underwater Technology, Chair of the Scientific Committee of the World Federation of Underwater Activities, Secretary of the UK Co-ordinating Committee on Marine Science and Technology, Member of the UK Delegation to the United Nations Committee on the Peaceful Uses of the Seabed Beyond National Jurisdiction, and Chair of the UNESCO Committee on International Ocean Data Exchange. He is a Trustee of the Maritime Archaeology Trust, and a Fellow of the Society of Antiquaries of London.
Key publications
Flemming, N.C. 1973. Archaeological evidence for eustatic and tectonic components of relative sea level change in the South Aegean. In: Marine Archaeology, D.J. Blackman (ed.), Butterworth Press, Colston Papers 23, p. 1-66.
Flemming, N.C. 1978. Holocene eustatic changes and coastal tectonics in the north-east Mediterranean: implications for models of crustal consumption. Phil. Trans. Royal Society, London, A., v. 289, p. 405-458.
Masters P and Flemming, N.C (eds).1983. Quaternary Coastlines and Marine Archaeology. Academic Press, London and New York, 641 pp.
Flemming, N.C. and Max, M. 1987. (Ed.with Michael Max). International Code of Practice for Scientific Diving, Editor, UNESCO Marine Sciences Division, 251 pp. Technical Series, No. 53, UNESCO, Paris.
Flemming, N.C. 2001. Dividends from investing in ocean observations: a European perspective, p 66-84 In: Koblinsky, C.J., and Smith, N.R. (eds). Observing the Oceans in the 21st century: Proceedings of the International Conference on the Ocean Observing System for Climate, Solicited Papers Session 3B, Saint-Raphael, France, 18-22 October 1999, 604 pp.
Bailey, G.N. and Flemming, N.C. 2008. Archaeology of the continental shelf: marine resources, submerged landscapes and underwater archaeology. Quaternary Science Reviews. 3-24, p. 2153-65.
Flemming, N.C., Harff, J., Moura, D., Burgess, A., and Bailey, G. (eds.).2017. Submerged Landscapes of the European Continental Shelf: Quaternary Geology and Prehistoric Paleoenvironments. Wiley-Blackwell. Chichester, UK.
Books by Nicholas C. Flemming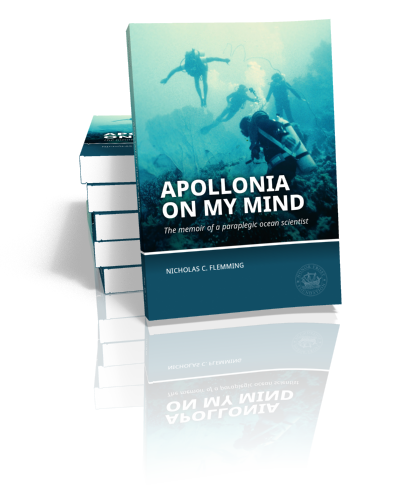 Apollonia on my Mind
The memoir of a paraplegic ocean scientist
Nicholas C. Flemming | 2021
The ocean conceals secrets, ancient, modern, and future. Nic Flemming's memoir recounts the life of a pioneer in ocean science. Each chapter describes a thread that structured his work: underwater cities, submerged Ice Age caverns…