Dr. Vera Egbers
Vera Egbers is an archaeologist specialized in ancient Western Asia with research interests in subjectivation processes, sensory archaeology, architecture and the built environment, feminist approaches, and archaeology of modernity. She studied in Berlin (Freie Universität), Istanbul (Boğaziçi Üniversitesi), and Paris (Panthéon-Sorbonne) and was later a visiting fellow at the Department of Anthropology in Harvard as well as a junior fellow at the Research Center for Anatolian Studies (RCAC/ANAMED) of Koç University in Istanbul.
She received her PhD from the Institute of Near Eastern Archaeology at the Freie Universität Berlin, where she also was a member of the Excellence Cluster TOPOI and the Berlin Graduate School of Ancient Studies (BerGSAS, PhD program "Landscape Archaeology and Architecture"). She participated in various field projects, i.e., in Turkmenistan, northern Iraq, Turkey, and Germany. Since 2020 she holds a position as a postdoctoral researcher at the DFG Research Training Group 1913 "Cultural and Technological Significance of Historic Buildings" at the Brandenburg University of Technology Cottbus-Senftenberg, where she works with architect Dr. Özge Sezer on the meaning and impact of rural space/rurality in times of political and social change in 20th cent. (CE) Turkey.
From 2021-22 she held the travel fellowship of the German Archaeological Institute, which enabled her to visit parts of South America, West and South-East Asia.
Books by Vera Egbers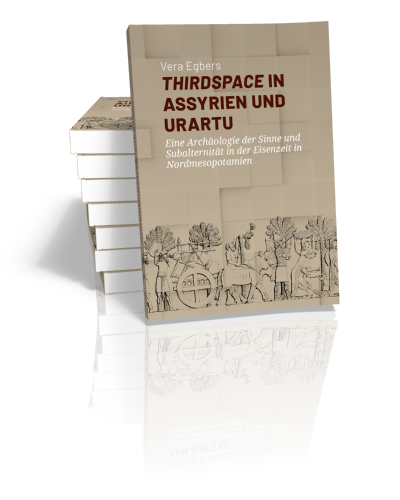 Thirdspace in Assyrien und Urartu
Eine Archäologie der Sinne und Subalternität in der Eisenzeit in Nordmesopotamien
Vera Egbers | 2023
Wie lässt sich Subalternität in der Vergangenheit untersuchen, wenn heute fast ausschließlich Hinterlassenschaften der Eliten erhalten sind? Warum lohnt sich eine solche Untersuchung und wo führt sie hin? Diesen Fragen wird in dem vorliegenden Buch…