Prof. dr. Bronwen Douglas
Bronwen Douglas is honorary professor at the Australian National University in Canberra where she was fellow and senior fellow from 1997–2012. She was previously lecturer and senior lecturer at La Trobe University (Melbourne, Australia) from 1971–1996.
A historian of science focussing on Oceania, her main research field is the interplay of global ideas of human difference, race, and geography in European encounters with particular Oceanian people, places, and agency. Her conceptual interests include materiality and use of visual materials, maps, and objects as ethnohistorical texts.
She is single author of Science, Voyages, and Encounters in Oceania 1511–1850 (Palgrave, 2014), Across the Great Divide: Journeys in History and Anthropology (Harwood, 1998), and more than 70 scholarly articles and book chapters. She co-edited (with Chris Ballard) Foreign Bodies: Oceania and the Science of Race 1750-1940 (ANU E Press, 2008) and (with Nicholas Thomas and Anna Cole) Tattoo: Bodies, Art and Exchange in the Pacific and the West (Reaktion, 2005). She edited or co-edited special issues of Oceania (74, 2003), Journal of Pacific History (47, 2012), Journal of Colonialism and Colonial History (18, 2017), and History and Anthropology (forthcoming). She is currently editor of the Journal of Pacific History and co-editor of Palgrave Studies in Pacific History.
Books by Bronwen Douglas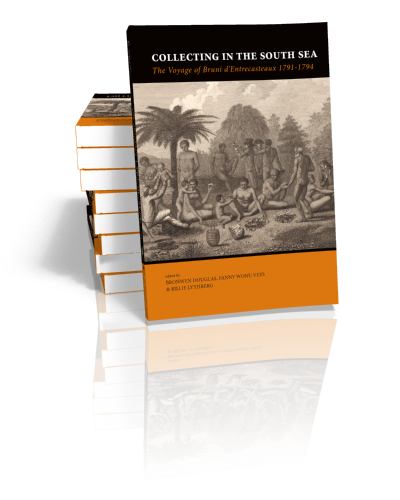 Collecting in the South Sea
The Voyage of Bruni d'Entrecasteaux 1791-1794
Edited by Bronwen Douglas, Fanny Wonu Veys, and Billie Lythberg | | 2018
This book is a study of 'collecting' undertaken by Joseph Antoine Bruni d'Entrecasteaux and his shipmates in Tasmania, the western Pacific Islands, and Indonesia. In 1791–1794 Bruni d'Entrecasteaux led a French naval expedition in search…