Dr. Cunera Buijs
Cunera Buijs (1958) is currently Curator Arctic regions at the Dutch National Museum of Ethnology in Leiden. She studied Museology at the Reinwardt Academy and Cultural Anthropology at the Leiden University. From 1985 till 1990 she was a researcher at the Institute for Advanced Research of Social Systems (FOSS).
Since 1990 she is a curator of the circumpolar cultures. She finished her PhD in 2004 and published a dissertation on clothing and identity of the Inuit of East Greenland. She conducted fieldwork form1985 onwards up to the present day in East Greenland, Sapmi ( Lapland) and Souteast Siberia, and recently finished a (film) project on climate change. She established cooperation and partnerships with the museums in Greenland and Sakhalin in het Russan Far East. Her research is endorsed by the International Polar Year Committee (IPY). In the period 2002 – 2008 she teached a course in Cultural Conflicts in Greenland at the Arctic Centre, University of Groningen.
She was an associate editor for the journal Yumtzilob (Leiden). She is a member of the CPO (Commission Polar Reserach Netherlands), RGCC (Research Group Circumpolar Cultures) en the Section Cultures of the Dutch Museum Foundation.
Expertise
Topics of interest and expertise are arts, crafts and material culture from the Inuit of Greenland, the Sami of Scandinavia, and Siberian peoples, especially the Nivkhi of the Russian Far East; ethno-history of the Arctic Peoples; museum anthropology; ethnic tourism, climate change related to processes of identity building and cultural change.
Books by Cunera Buijs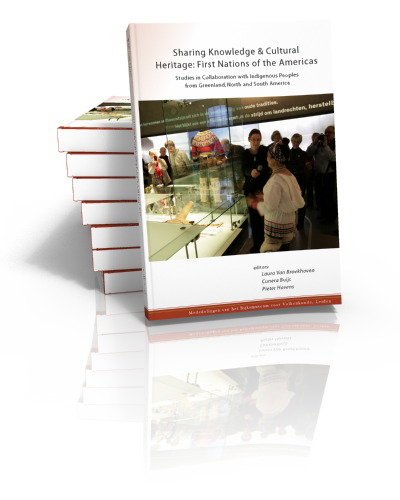 Sharing Knowledge and Cultural Heritage: First Nations of the Americas
Studies in Collaboration with Indigenous Peoples from Greenland, North and South America
Edited by Laura van Broekhoven, Cunera Buijs & Pieter Hovens | 2010
Sharing Knowledge & Cultural Heritage (SK&CH), First Nations of the Americas, testifies to the growing commitment of museum professionals in the twenty-first century to share...