Dr. Stijn Arnoldussen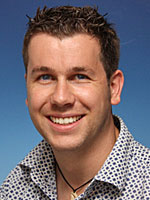 Stijn Arnoldussen studied prehistory of northwestern Europe at Leiden University and won the 'W.A. van Es' award for the best Dutch archaeological MA thesis. From 2003 to 2007 he was involved in a research project that focused on the Bronze Age cultural landscape in the Dutch river area, resulting in his PhD thesis A Living Landscape. Stijn is also co-editor of the book 'Bronze Age settlements in the Low Countries' (Oxbow books, 2008). After working for several years as a senior researcher with the Dutch National Service for Archaeology, Cultural Landscape and Built Heritage (RACM, now RCE) he is currently employed as a lecturer in later prehistory at the University of Groningen.
Present research focusses on the long-term development of cultural landscapes from the Late Neolithic onwards, with specific attention for (1) the interplay of funerary and settlement domains within the wider cultural landscape, (2) Bronze Age settlements as foci for patterned deposition and (3) the nature and dynamics of the Celtic field system of the later Bronze Age and Iron Age, of which several sites are excavated over a three year period.
Side-projects comprise pottery analysis (from the Neolithic up to the Roman Period), analyses of Bronze artefacts, computer applications in fieldwork and editorial work for the Journal for Archaeology in the Low Countries (www.jalc.nl).
External link: Stijn Arnoldussen's Academia.edu profile
Books by Stijn Arnoldussen