Honor Frost Foundation Research Publication

Since April 2018 the Foundation has established two publication series. The focus of the HFF Publication Series is to support the publication and dissemination of high quality research pertaining to maritime archaeology of the Mediterranean region, with a focus on the eastern Mediterranean. The publication series not only offers HFF-supported researchers the opportunity to publish but also supports broader based research in the region through two main publication series, the Research Series and the General Series.
The volumes in the Research and General series are published through Sidestone Press in Leiden, Netherlands, and edited and produced by the HFF publications manager Miranda Richardson, address below.
The Research publications is a peer-reviewed series, whereas the General series is open to a wider variety of topics (non-peer-reviewed).
Submission
Honor Frost Foundation Publications are in English. Interested authors should send a volume proposal to the Publications Editor – (address below). Proposals will be assessed by the Publications Editor, the Archaeological Director, and members of an Editorial Board. All manuscripts for the peer-reviewed Research Publications series will be read by at least two external referees chosen for their expertise in the specific subject of the publication.
Publications Editor:
Also see https://honorfrostfoundation.org/publications/hff-publication-series/
HFF

Publication Series Advisory Board
Dr. David Blackmam
Dr. Claire Calcagno
Dr. Peter Campbell
Dr. Nicolas Carayon
Dr. Stella Demesticha
Dr. JD Hill –

HFF

Advisor
Dr. Claude Doumet-Serhal –

HFF

Trustee
Dr. Lucy Blue –

HFF

Maritime Archaeological Director
Honor Frost Foundation Research Publication latest volumes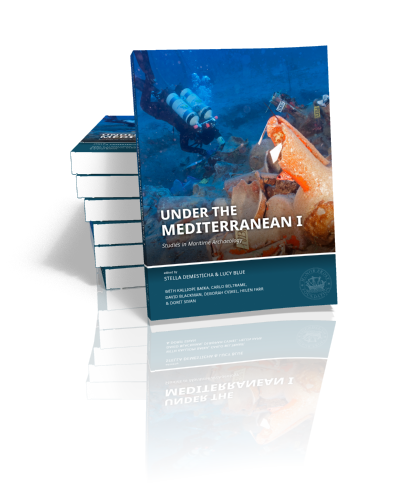 Under the Mediterranean I
Studies in Maritime Archaeology
Edited by Stella Demesticha & Lucy Blue, with Kalliopi Baika, Carlo Beltrame, David Blackman, Deborah Cvikel, Helen Farr & Dorit Sivan | 2021
This volume is a collection of 19 articles in three sections reporting on recent research on the archaeology of shipwrecks, harbours, and maritime landscapes in the Mediterranean region. The shipwrecks section looks at excavated vessels…