Prof. dr. Annelou van Gijn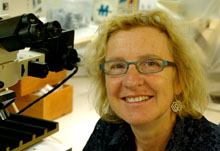 Annelou van Gijn was born in Amsterdam, the Netherlands in 1956 and has studied at Washington State University and the University of Groningen. She obtained her PhD at Leiden University in 1990, where she was appointed assistant professor in prehistory in 1986. In 2000 she became associate professor with the award of an ASPASIA grant. Her specialisation is the technological and functional study of prehistoric artefacts, mainly from the later prehistory of the Netherlands. Initially she concentrated on flint tools but in the context of recent large-scale excavations of wetland sites she extended her studies to objects made of a variety of raw materials in order to arrive at a better understanding of past technological systems as a whole.
Over the last few years she has also participated Caribbean Research Group projects in the Faculty of Archaeology. She is co-editor of the book The Prehistory of the Netherlands, in which she wrote several chapters and a leader of the team "Skills, processes and tools" of the ESF project EARTH. During 2006/2007 she was a Fellow at the Netherlands Institute for Advanced Studies of the Royal Academy of Sciences in Wassenaar.
In 2008, Annelou van Gijn was appointed Professor of Material Culture Studies by special appointment at the University of Groningen. In this position she intends to stimulate the study of the cultural biography of objects, in conjunction with regional and period specialists within the Groningen Institute of Archaeology.
External link: Annelou van Gijn's Academia.edu profile
Books by Annelou van Gijn