Prof. Dr. Catarina Tente
Catarina Tente is Professor of Medieval and Rural Archaeology at the Nova University of Lisbon with a focus on early medieval rural communities, rural landscape, mountain landscapes, social archaeology.
She has a degree in History, variant of Archaeology, in 1997 from the University of Lisbon and Master in Medieval History and Archaeology in 2005 from the Nova University of Lisbon. In 2010 she obtained her PhD in History, speciality of Archaeology, from the same University, with a thesis focused at early medieval landscape at Central Portugal.
Between 1998 and 2006 she worked as archaeologist at the Portuguese Institute of Archaeology, having assumed its sub-directorship between 2003 and 2006. Since 2007 she has been a professor of archaeology at the Faculty of Social Sciences and Humanities of the Nova University of Lisbon, first as assistant and invited assistant professor; between 2012 and 2021 as assistant professor and since 2021 as associate professor.
Main Research Fields:
Medieval Landscape archaeology
Archaeology of mountain landscapes
Early medieval archaeology
Rural communities
Ethnoarcheology
Esteem factors:
Dean of the Institute of Medieval Studies (since 2023)
National Representative of Portugal at the European Association:

RURALIA

The Jean-Marie Pesez Conferences on Medieval Rural Archaeology (since 2015)
At the Faculty of Social Sciences and Humanities of the Nova University of Lisbon she was coordinator of the Archaeology degree from 2012 to 2021 and deputy assistant dean for Research from 2016 to 2021. She was also deputy director of the Institute for Medieval Studies between 2014 and 2016.
Member of scientific boards:
Portuguese Pluri-annual Research Projects in Archaeology – external experts, since 2024.
A3Es Portuguese Agency for the Evaluation of Higher Education Schools – external experts, 2023 ongoing.
Peer reviewing activities for funding organizations:
Member of the panel of evaluators of final reports in the area of History and archaeology for projects funded in the 2008, 2009 and 2010 by National Foundation for Science and Technology.
Peer reviewer for several national and international journals.
International scientific co-operations:
She has directed and codirected 14 projects funded by different public and private entities and collaborated in nine research projects, give of wich which were international:
Project 2010-2014: Tumbas, territorio e identidad local en el centro de la Península Ibérica en la Alta Edad Media, IP – Iñaki Martín Viso
Project 2012-2015: Desigualdad social en los paisajes medievales del norte peninsular: los marcadores arqueológicos (HUM2012-32514), IP – Juan Antonio Quirós Castillo
2015-2017: Colapso y regeneración en la Antigüedad Tardía y la Alta Edad Media: el caso del Noroeste peninsular (Ref. HAR2013-47889-C3-1-P), IP – Iñaki Martín Viso and Pablo de la Cruz Díaz Martínez (Universidad de Salamanca)
Project 2019-2020: Arqueología de la producción cerámica en el Toletum altomedieval: producción, intercambio y Consumo (Ref. Sbply/19/180801/000036), IP Iolanda Peña Cervantes
Project 2022- on going – Los escenarios de las micropolíticas: acción colectiva, sociedades locales, poderes englobantes (siglos VI-

XII

) (Ref. PID2020-112506GB-C42), IP: Iñaki Martín Viso and Pablo C. Díaz
Books by Catarina Tente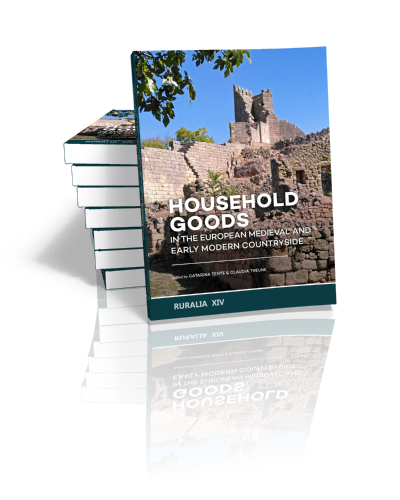 Household goods in the European Medieval and Early Modern Countryside
Edited by Catarina Tente and Claudia Theune | 2023
Although household goods are a well-establish topic in Medieval and Early Modern archaeology, more recent research is overcoming simple typological and technological aspects and pointing to broader approaches, which relates to the understanding of goods'…