Dr. Peter ten Hoopen
Dr. Peter ten Hoopen was born in the Netherlands in 1944. After completing his Gymnasium ß education he started out as a journalist and translator. From 1968 to 1971 he lived in and travelled through the Middle East and South Asia, conducting journalistic research and recording ethnic music in Afghanistan, now curated by the Smithsonian Institution (Washington, DC). During his extensive travels in 65 countries in subsequent years he witnessed the ongoing decline of numerous indigenous traditions. This experience affected him deeply and in 1976 led to his initiative to assemble a reference collection of particularly imperilled Indonesian ikat textiles – meticulously documented on a level not previously attempted.
Recognition for his literary work led to an appointment as writer in residence at the University of Michigan during the academic year 1984-1985, teaching creative writing. Throughout the remainder of the 20th century, he kept writing in three fields: journalism, belles-lettres and advertising. From 2000 to 2010, building on his international background, he worked world-wide as a consultant and coach, teaching managers and companies to improve their cross-cultural effectiveness. In the process he developed new research software and wrote as well as co-authored several handbooks on coaching and leadership. Two of the latter were based on fine-grained ethnographic research of corporate cultures.
Since his retirement in 2010 Peter ten Hoopen has been focussing on documenting of the above-mentioned, by then extensive reference collection of Indonesian ikat textiles. This has led to major exhibitions at the Museu do Oriente in Lisbon (2014-2015 and 2019-2020) and at the Museum and Art Gallery, the University of Hong Kong (2017-2018), for which he authored or edited the catalogues. His collecting and documenting since the mid-1970s culminated in the publication of his Ikat Textiles of the Indonesian Archipelago (2018) and the research reported in the present PhD thesis.
Books by Peter ten Hoopen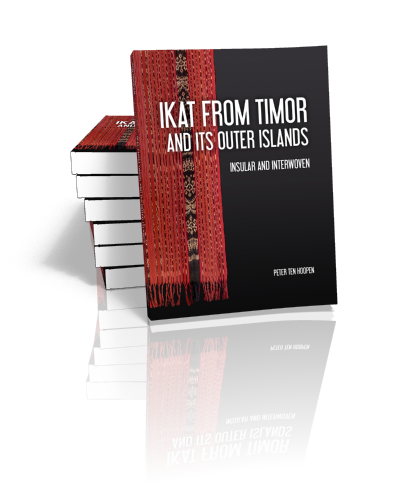 Ikat from Timor and its outer Islands
Insular and Interwoven
Peter ten Hoopen | Forthcoming
This is the first study to focus on ikat of the Timor region from a technical perspective, including microscopy and design analysis of asymmetry, an understudied subject. Paradoxically this technical perspective highlights the human factor.…