Dr Peter B. Campbell
Peter B. Campbell is Lecturer in Cultural Heritage Under Threat at Cranfield University. He received his PhD in Archaeology from the Centre for Maritime Studies at the University of Southampton and MA in Maritime Studies from East Carolina University. He served as a research fellow at the British School at Rome from 2017-2018 and Assistant Director for Archaeology and Archaeological Science from 2018-2020.
His research broadly examines maritime connectivity and he has directed archaeological projects in seven countries, primarily in the Mediterranean, including co-directing the Egadi Islands Survey Project (Italy) and Fournoi Underwater Survey (Greece), but also research in the Atlantic and Indian oceans. Beyond maritime connectivity, Peter studies the illicit antiquities trade, research which has been used in policy papers and presented to the OSCE, INTERPOL, and UN/UNESCO. Peter is active in public engagement, publishing articles in Bloomberg, New York Times, and the Guardian, as well as recently appearing on BBC, CNN, History Channel, Discovery, and National Geographic.
Books by Peter B. Campbell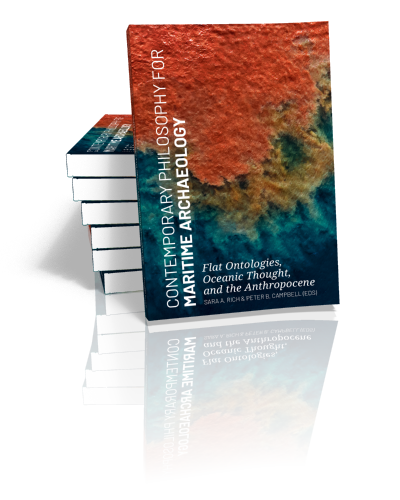 Contemporary Philosophy for Maritime Archaeology
Flat Ontologies, Oceanic Thought, and the Anthropocene
Edited by Sara A. Rich & Peter B. Campbell | 2023
While terrestrial archaeology has engaged with contemporary philosophy, maritime archaeology has remained in comparative disciplinary – or subdisciplinary – isolation. However, the issues that humans face in the Anthropocene – from global warming to global…