Dr. Yvan Pailler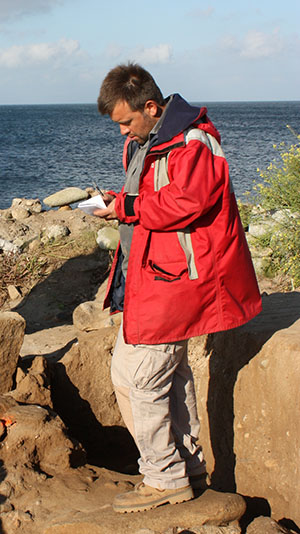 Yvan Pailler defended his PhD in 2004 at the University of Western Brittany (UBO, Brest) on the theme of the emergence of Neolithic in Brittany by interrogating especially polished stone objects. From 2005 to 2007, he completed a first post-doctorate at the Department of Archaeology at National Museums Scotland where he worked on the appearance of the Neolithic in Great Britain and Ireland and its links with the continent and is interested in parallel production of polished stone blades socially valued. In 2007, he began a second post-doc (CNRS) of three years as part of the ANR Jade 1 program directed by P. Pétrequin. Since 2010, he has been recruited as scientific officer for archaeological operations at the French National Institute for Rescue Archaeology (Inrap), as Neolithic specialist. He is also a member of the Trajectoires laboratory, UMR 8215 (co-supervised Paris 1 / CNRS). He has directed many archaeological operations (excavations, diagnoses and surveys); he is also involved in several research programs (PCR Bronze in Brittany, ANR Jade 2, etc.). Hosted since 2013 in LETG laboratory (UMR 6554) at the European Institute for Marine Studies (IUEM, Plouzané), he develops interdisciplinary projects around human / environmental relations and teaches Prehistory at UBO.
Yvan Pailler a soutenu sa thèse en 2004 à l'Université de Bretagne Occidentale (UBO, Brest) sur le thème de la néolithisation de la Bretagne en interrogeant notamment les objets en pierre polie. De 2005 à 2007, il réalise un premier post-doctorat au sein du département d'archéologie du National Museums Scotland où il travaille sur l'apparition du Néolithique en Grande-Bretagne et en Irlande et ses liens avec le continent et s'intéresse parallèlement aux productions de lames polies socialement valorisées. En 2007, il entame un second post-doc (CNRS) dans le cadre du programme ANR Jade 1 dirigé par P. Pétrequin. Depuis 2010, il est responsable d'opération archéologique à l'Inrap, spécialiste du Néolithique. Il est par ailleurs membre du laboratoire Trajectoires, UMR 8215 (co-tutelle Paris 1/ CNRS). Il a dirigé de nombreux chantiers archéologiques (fouilles, diagnostics et prospections) ; il est également impliqué dans plusieurs programmes de recherche (PCR Bronze en Bretagne, ANR Jade 2). Hébergé depuis 2013 au laboratoire LETG (UMR 6554) à l'Institut Universitaire européen de la Mer (IUEM, Plouzané), il y développe des projets interdisciplinaires autour des relations Homme / Milieu et enseigne la Préhistoire à l'UBO.
Books by Yvan Pailler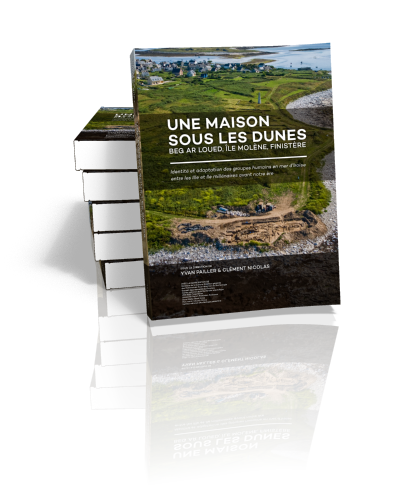 Une maison sous les dunes : Beg ar Loued, Île Molène, Finistère
Identité et adaptation des groupes humains en mer d'Iroise entre les IIIe et IIe millénaires avant notre ère
Edited by Yvan Pailler & Clément Nicolas | 2019
Depuis 2001, des recherches archéologiques sont menées dans l'archipel de Molène. Ce secteur s'avère particulièrement riche en vestiges du Néolithique et de l'Age du Bronze....