Dr. Clément Nicolas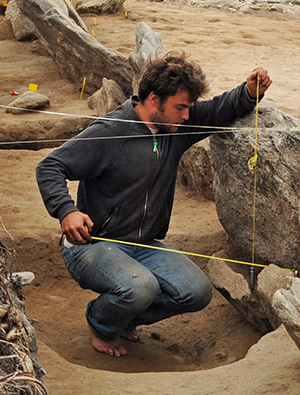 Clément Nicolas is a postdoctoral researcher at the laboratory UMR 8215 Trajectoires (Nanterre, France). His researches focus on the first metalworking societies during the IIIrd and the IInd millennia BCE in Europe. As lithic specialist, he led studies on productions and functions of fancy archery-related items (arrowheads, bracers and so on) in several countries in order to track their biographies and their relations to social hierarchies: in France, Britain and Denmark during his PhD, in Central Europe as a postdoctoral fellow of the Foundation Fyssen. He works as well on the questions of craftsmanship and Atlantic exchange networks through the studies of a range of grave goods (metal artefacts, jewellery).
In the meanwhile, he developed a field approach in Brittany leading or participating to several surveys and excavations on Neolithic and Early Bronze Age periods. These researches aim to study the territories and the structures of human settings (graves, settlements, field systems…) to provide a better understanding of the rise of highly stratified societies.
Recently with Sidestone Press (2016), he published his PhD on prestigious arrowheads 'Flèches de pouvoir à l'aube de la métallurgie de la Bretagne au Danemark (2500-1700 av. n. è.).
Clément Nicolas est postdoctorant au laboratoire UMR '8215 Trajectoires (Nanterre, France). Ses recherches portent sur les premières sociétés métallurgistes durant les IIIe et IIe millénaires avant notre ère en Europe. En tant que lithicien, il a mené des études sur les productions et les fonctions d'objets élaborés liés à l'archerie (pointes de flèches, brassards, etc.) dans différents pays afin de pister leurs biographies et leurs liens avec les hiérarchies sociales: en France, en Grande-Bretagne et au Danemark durant sa thèse et en Europe centrale en tant que boursier de la Fondation Fyssen. République tchèque, Hongrie). Il travaille également sur les questions d'artisanat et les réseaux d'échanges atlantiques à travers l'étude des viatiques.
Dans le même temps, il a développé une approche de terrain en Bretagne menant ou participant à différentes prospections et fouilles sur le Néolithique et le Bronze ancien. Ces recherches ont pour ambition d'étudier les territoires et les structures des implantations humaines (tombes, habitats, parcellaires, etc.) et de mieux comprendre l'émergence de sociétés fortement hiérarchisées.
Il a publié en 2016 sa thèse chez Sidestone Press sur les armatures de prestige « Flèches de pouvoir à l'aube de la métallurgie de la Bretagne au Danemark (2500-1700 av. n. è.) ».
Books by Clément Nicolas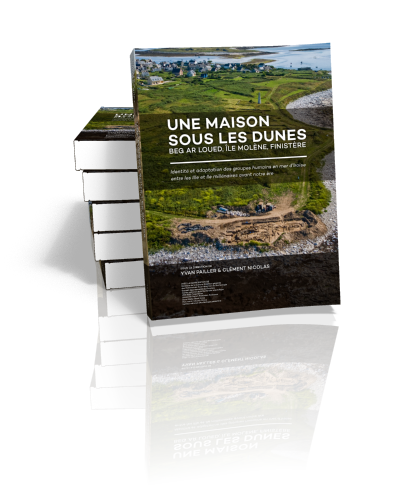 Une maison sous les dunes : Beg ar Loued, Île Molène, Finistère
Identité et adaptation des groupes humains en mer d'Iroise entre les IIIe et IIe millénaires avant notre ère
Edited by Yvan Pailler & Clément Nicolas | 2019
Depuis 2001, des recherches archéologiques sont menées dans l'archipel de Molène. Ce secteur s'avère particulièrement riche en vestiges du Néolithique et de l'Age du Bronze. Une concentration exceptionnelle de monuments mégalithiques y a été mise…