Asja Müller M.A.
Institute of Classical Archaeology, Freie Universität Berlin (present). Studies of Classical Archaeology, Prehistoric Archaeology, Experimental Archaeology and Egyptology at Leipzig and Exeter (UK); PhD Kiel 2017; Postdoc Research Fellow CRC 1266, project E3 at the Institute of Classical Studies / Classical Archaeology, CAU Kiel, 2016-2017; Travel Scholarship of the German Archaeological Institute 2017-2018; Assistant Professor at the Institute of Classical Archaeology, Freie Universität Berlin 2018-.
Key publications:
Müller, A., 2017. Provenancing Roman period mummy masks: workshop groups and distribution areas. In: M. Tomorad and J. Popielska-Gzybowska, eds. Egypt 2015: Perspectives of Research. Proceedings of the Seventh European Conference of Egyptologists, 2nd-7th June 2015, Zagreb, Croatia, Archaeopress Egyptology 18. Oxford: Archaeopress, 127-145.
Müller, A., 2018. Masking the dead in Roman Egypt. In: A. Berlejung and J.E. Filitz, eds. The physicality of the other: masks from the ancient Near East and the Eastern Mediterranean, Orientalische Religionen in der Antike 27, Tübingen: Mohr Siebeck, 91-112.
Müller, A., forthcoming. Hellenistic built space and human Action: the Asclepieion of Cos. In: A. Haug and S. Merten, eds. Urban Practices.
Books by Asja Müller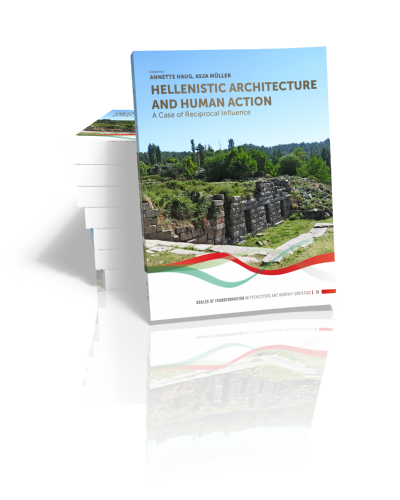 Hellenistic Architecture and Human Action
A Case of Reciprocal Influence
Edited by Annette Haug & Asja Müller | Forthcoming
This book examines the mutual influence of architecture and human action during a key period of history: the Hellenistic age. During this era, the profound...