Dr. Robert Hofmann
Robert Hofmann is a researcher at the Institute for Prehistoric and Protohistoric Archaeology at Kiel University, Germany. After early beginnings in a school club of 'young archaeologists' and several years of working in a county archaeological research unit, he studied Prehistoric and Protohistoric Archaology at the Free University of Berlin between 1998 and 2005 (Magister 2005) and completed his PhD in 2011 at Kiel University.
After conducting a research project on 'Innovation and Periphery in the Central and Western Balkans during the Neolithic and Early Aeneolithic', he has been involved since 2016 in research on Chalcolithic Trypillia communities and settlement networks within the framework of the Kiel University Collaborative Research Centre (CRC 1266) 'Scales of Transformation – Human-Environmental Interaction in Prehistoric and Archaic Societies'. He is a team member in international field research projects on Late Neolithic societies in Bosnia-Herzegovina and Serbia, as well as on Chalcolithic tells and mega-sites in Ukraine, Romania and Moldova. His main research interests are the social and political organisation and settlement processes of Neolithic and Chalcolithic societies in Southeast and East Europe.
Key publications:
Hofmann, R. 2020. Neolithic pottery innovation in context: A model and case study from the Central and Western Balkans' in Spataro, M. and Furholt, M., eds., Detecting and explaining technological innovation in prehistory, Leiden: Sidestone Press Academics, 93-119.
Hofmann, R. and Müller-Scheeßel, N. (2020) 'Orientation of Neolithic dwellings in Central and Southeast Europe: Common denominator between the Vinča and Linearbandkeramik worlds', Quaternary International, 560-561, 142–153.
Hofmann, R., Müller, J., Shatilo, L., Videiko, M., Ohlrau, R., Rud, V., Burdo, N., Dal Corso, M., Dreibrodt, S. and Kirleis, W. 2019. 'Governing Tripolye: Integrative architecture in Tripolye settlements',

PLOS

ONE

, 14(9), 1-54.
Hofmann, R., Medović, A., Furholt, M., Medović, I., Stanković-Pešterac, T., Dreibrodt, S., Martini, S. and Hofmann, A. (2019). Late Neolithic multicomponent sites of the Tisza region and the emergence of centripetal settlement layouts, Prähistorische Zeitschrift, 94(1), 1-28.
Hofmann, R. (2015) 'The Bosnian Evidence: The New Late Neolithic and Early Copper-Age Chronology and Changing Settlement Patterns' in Hansen, S., Raczky, P., Anders, A. and Reingruber, A., eds., Neolithic and Copper Age between the Carpathians and the Aegean Sea. Chronologies and Technologies from the 6th to the 4th Millenium

BCE

. International Workshop Budapest 2012. Dr. Rudolf Habelt GmbH, Bonn, 219-241.
Hofmann, R. 2013. Okolište 2 – Spätneolithische Keramik und Siedlungsentwicklung in Zentralbosnien. Dr. Rudolf Habelt GmbH.
Hofmann, R., Moetz, F.-K. and Müller, J., (eds.) 2012. Tells: Social and Environmental Space. Proceedings of the International Workshop "Socio-Environmental Dynamics over the Last 12,000 Years: The Creation of Landscapes II (14th –18th March 2011)" in Kiel. Volume 3, Dr. Rudolf Habelt GmbH, Bonn.
Books by Robert Hofmann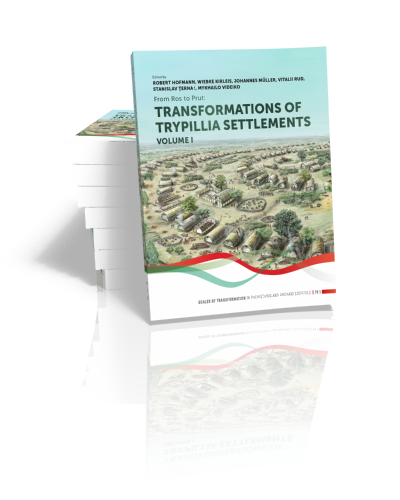 From Ros to Prut (volume 1)
Transformations of Trypillia settlements
Edited by Robert Hofmann, Wiebke Kirleis, Johannes Müller, Vitalii Rud, Stanislav Ţerna†, Mykhailo Videiko | | Forthcoming
Pre-dating the urban revolution in Western Asia, a network of agricultural settlements developed in the forest-steppe zone northwest of the Black Sea in the late 5th and first half of the 4th millennium BCE, some…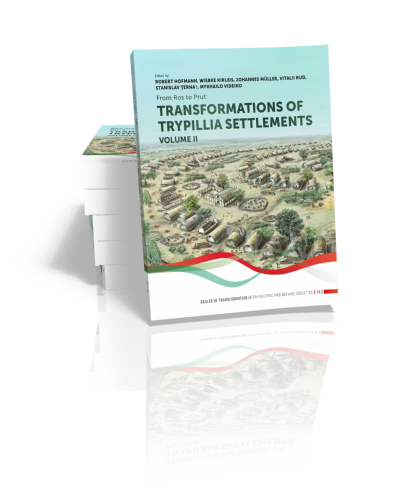 From Ros to Prut (volume 2)
Transformations of Trypillia settlements
Edited by Robert Hofmann, Wiebke Kirleis, Johannes Müller, Vitalii Rud, Stanislav Ţerna†, Mykhailo Videiko | | Forthcoming
Pre-dating the urban revolution in Western Asia, a network of agricultural settlements developed in the forest-steppe zone northwest of the Black Sea in the late 5th and first half of the 4th millennium BCE, some…