Dr. Theresa Emmerich Kamper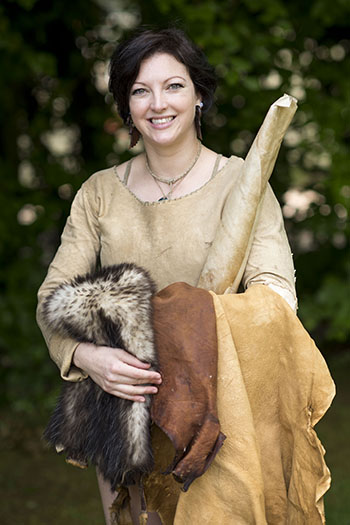 Dr. Theresa Emmerich Kamper is an avid practitioner of traditional living skills and primitive technology of all kinds, and has tanned skins using traditional technologies for over twenty five years. She originates from the state of Wyoming in the United States, where she was lucky enough to grow up as part of a family of outdoor enthusiasts. The vast tracks of wilderness surrounding her home town allowed ample opportunity to practice and hone her practical skill sets.
She holds a Masters Degree in Experimental Archaeology from the University of Exeter, as well as a PhD on the microscopic analysis of prehistoric processed skin artefacts. She held an internship with the Smithsonian National Museum of Natural History which resulted in the co-authored article Modelling scale and variability in human-environmental interaction in Inner Asia in Ecological Modelling. As part of the Openarch project funded by the Culture Program of the European Union, she was heavily involved in experimental work and public demonstrations at archaeological open air museums. In addition she helped plan and deliver an international workshop in Exeter, give presentations at international project conferences and co-authored a chapter in Life-Cycle of Structures in Experimental Archaeology: an object biography approach with Sidestone Press.
She is currently an honorary research fellow with the University of Exeter and teaches practical courses across Europe, North America and the Near East on various tannage technologies as well as continuing to engage in research projects with a broad array of museum and academic institutions.
Books by Theresa Emmerich Kamper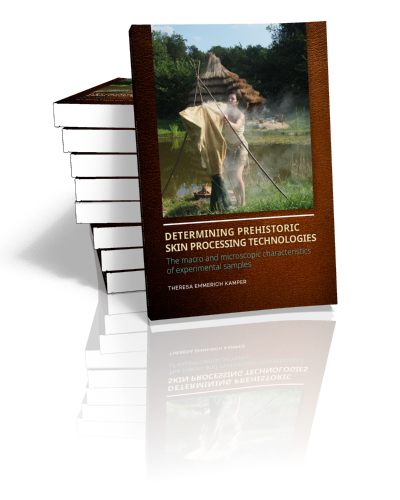 Determining Prehistoric Skin Processing Technologies
The macro and microscopic characteristics of experimental samples
Theresa Emmerich Kamper | | 2020
The importance of skin processing technologies in the history and expansion of humankind cannot be overstated, yet these technologies can be difficult to identify in the archaeological record. This research outlines the development of a…