Dr. Anna Cappellotto
Anna Cappellotto is a post-doctoral research fellow in Medieval Studies at the University of Verona. At the same institution she has been recently awarded a PhD in Medieval Philology and her thesis deals with the edition of a Middle High German translation of Ovid's Metamorphoses.
During her PhD she has been a DAAD research fellow at the University of Cologne (Cologne Center for eHumanities), where she has received a research grant (with Dr. Tiziana Mancinelli) for the project "A Digital Scholarly Edition of Renaissance Women Writers in Italy and Germany". She is in the editorial board of the journal Medioevi. Rivista di letterature e culture medievali. Her publications include articles on Durs Grünbein, Peter Weiss, Mario Wirz, Robert Hamerling, and Albrecht von Halberstadt.
Books by Anna Cappellotto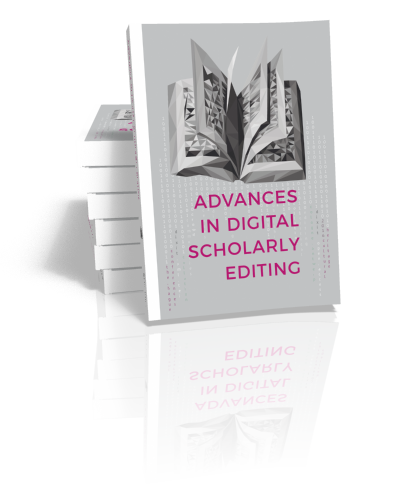 Advances in Digital Scholarly Editing
Papers presented at the DiXiT conferences in The Hague, Cologne, and Antwerp
Edited by Peter Boot, Anna Cappellotto, Wout Dillen, Franz Fischer, Aodhán Kelly, Andreas Mertgens, Anna-Maria Sichani, Elena Spadini & Dirk van Hulle | | 2017
As the papers in this volume testify, digital scholarly editing is a vibrant practice. Scholarly editing has a long-standing tradition in the humanities. It is of crucial importance within disciplines such as literary studies, philology,…