Dr. Luc W.S.W. Amkreutz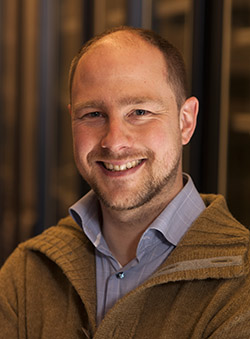 Luc Amkreutz (1978) studied Prehistory at the University of Leiden. In 2004 he gained his MA with a study of the earliest farmers in the Netherlands (Linearbandkeramik) and their settlements along the river Meuse. In 2013 he was awarded his doctorate for his thesis Persistent Traditions: A long-term perspective on communities in the process of Neolithisation in the Lower Rhine Area (6000–2500 cal. BC), within the Malta Harvest project 'From Hardinxveld to Noordhoorn – from Forager to Farmer'. He focused particularly on the socio-cultural changes in small-scale communities during the transition from hunting and gathering to agriculture.
Since 2008 Amkreutz has been the curator of Prehistory at the Dutch National Museum of Antiquities (RMO). Apart from numerous exhibitions, he worked on the 2011 new permanent exhibition Archaeology of the Netherlands, offering a fresh perspective on 300,000 years of the country's history. Amkreutz is also a member of the Faculty of Archaeology at Leiden University. He has conducted wide-ranging research including field projects into Early Neolithic farmers and the investigations of burial mounds. Currently, he is involved in researching the Palaeolithic and Mesolithic Prehistory of Doggerland. In 2016 he was awarded an NWO Museumgrant to investigate the 'Ancient Europe' collection of the museum.
Books by Luc W.S.W. Amkreutz