Water & Heritage presented to minister Schultz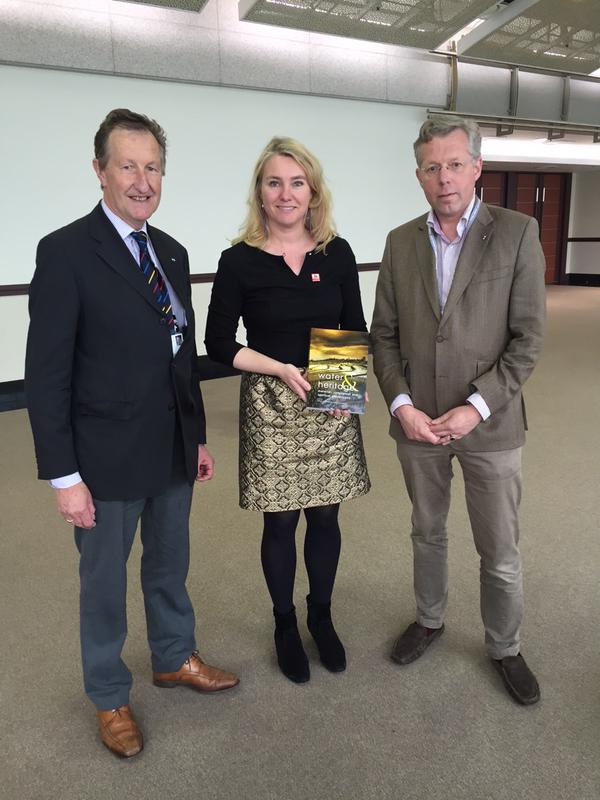 Our newest book "Water & Heritage" was presented at the 7th World Water Forum in Korea to the Dutch minister Schultz of Infrastructure & the Environment. The book was presented by Diederik Six (president ICOMOS Netherlands) and by the editor Henk van Schaik (Icomos Netherlands). A copy of the book was also presented to Henk Ovink, Special Envoy for International Water Affairs, Kingdom of the Netherlands.
The book "Water & Heritage" follows up on a Heritage and Water conference in Amsterdam, the first of its kind. Its main purpose is to credibly present the importance and value of heritage and historical experience for water and sustainable development, and vice versa, present the importance of water management for the protection of heritage. It presents evolving insights and concepts about Water and about Heritage from a variety of disciplines, policy and public perspectives illustrated with case studies and aims to connect decision makers with experts such as engineers, archaeologists, historians, geographers, ecologist and landscape architects.
Water & Heritage … tells the story of water heritage in all its diversity. It reveals the technical ingenuity that water heritage has always inspired, and it presents the challenges that this heritage faces, along with possible solutions. Reflecting the depth of cooperation between UNESCO and ICOMOS, this book was launched … as a showcase of cooperation to increase dialogue on water heritage. – Irina Bokova (Director-General of UNESCO)
For more information on the book, to order it, or to read it for free: www.sidestone.com/bookshop/water-heritage
More photos of the bookpresentation and World Water Forum, see the album at our Facebook page