Sidestone Book presented to H.M. Queen Beatrix of the Netherlands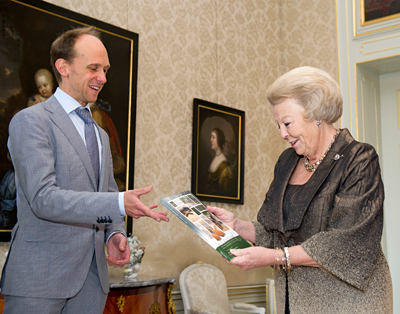 The royal estate near Apeldoorn (Veluwe) is scattered with prehistoric barrows. In recent years a team of Leiden archaeologists led by dr. David Fontijn investigated some of these during two excavation campaigns. The results of the first of these campaigns, focussing on two barrows near 'The Echoput' were presented to H.M. Queen Beatrix.
Interesting fact is that the first excavations to be conducted at the royal estate were led by dr. Holwerda in 1908 and were actually initiated by H.M. Queen Wilhelmina. Fascinated by these prehistoric barrows that dotted the estate near Apeldoorn, she invited dr. Holwerda of the National Museum of Antiquities (Leiden) to excavate some of these. This research history made it very special for dr. David Fontijn's team to 'return' to Apeldoorn in 2008, a hundred years later, in the context of the Ancestral Mounds research project. Although this time the research was not initiated by the Queen, she did take a keen interest in the matter and invited dr. Fontijn and some members of his research team, Q. Bourgeois, A. Louwen (Leiden University) and M. Parlevliet (municipality of Apeldoorn), to present their findings.
As part of their visit dr. Fontijn presented the first of the academic publications 'Iron Age Echoes' to H.M. the Queen. In the months to come a second academic book will be published on the second excavation campaign as well as two books for the general public. All books are published by Sidestone Press.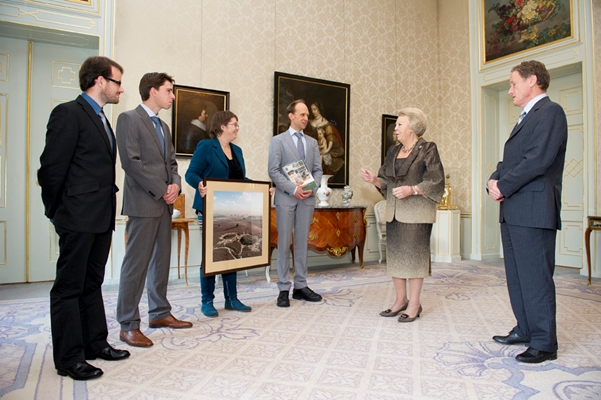 More information:
Sidestone Books by dr. Fontijn
Ancestral Mounds Website
Leiden University News
Photos © RVD; Richard van Elferen