Reproduction of the Ommerschans Sword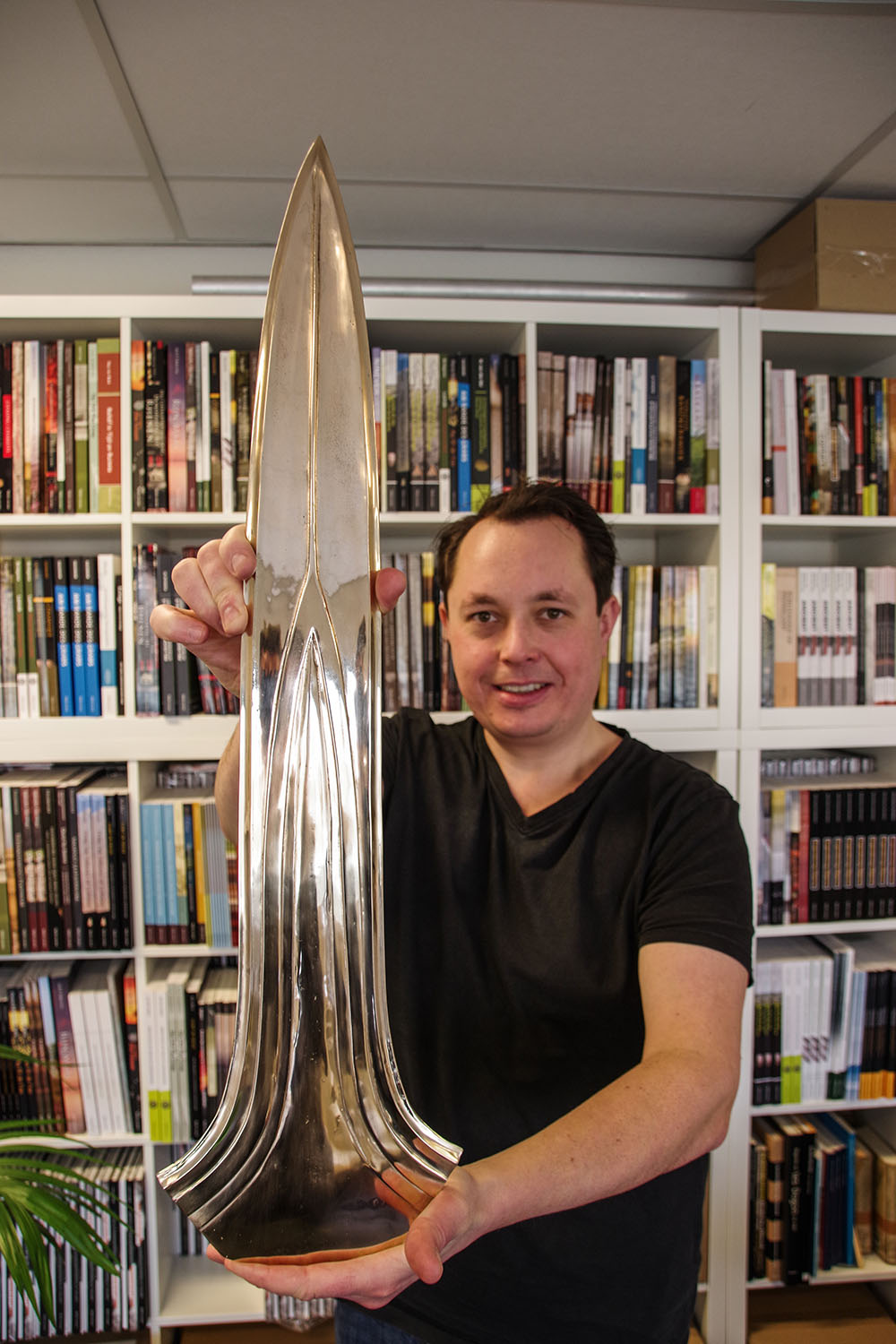 In celebration of the 200-year anniversary of the Dutch National Museum of Antiquities we presented the curator of the prehistory collection with an exact bronze reproduction of the recently acquired Ommerschans sword.
The Ommerschans sword is an oversized ceremonial sword dating to about 1500 BCE. This sword was found in the Netherlands in the end of the 19th century and is part of a group of six almost identical swords. The fascinating thing about these swords is that two of them were found in England, two in France and two in the Netherlands. They are identical to such a high degree that they must have been produced by the same smith or at least in the same workshop. These swords display an amazing level of Bronze Age craftsmanship and design. Five of the these six swords are about the same size, the sword of Jutphaas (Netherlands) being the exception which is about 40% smaller (42,5cm while the other five are all about 70cm long). None of them were ever hafted or sharpened. They were not intended as functional weapons but rather as ceremonial items. They were intentionally deposited in watery locations and one of the British specimens was even intentionally bend round before being deposited.
The Ommerschans sword has been in private ownership since its discovery in the late 19th century. In 1927 the curator of the National Museum of Antiquities was allowed to photograph the sword and to make a plaster cast of it. After that, the find and its owners went off the grid. Various attempts to acquire this remarkable find failed, until last year. The current curator of the museum managed to contact the owners and attempted to get the sword on loan for an exhibition. Unfortunately this attempt failed but months later the sword was put on auction and with the help of various funding bodies the museum finally managed to acquire this amazing object.
While celebrating the acquisition on the day of the auction we felt it would be nice to have an exact reproduction made. The original swords are all green-patinated but originally these bronze objects were bright, smooth and extremely shiny. As items of display, this is how they were intended to be seen. To celebrate the end of almost 100 years of trying to acquire this sword and at the same time also the 200-year anniversary of the museum, Sidestone Press (being the new publishing partner of the museum) decided to commission Jeroen Zuiderwijk to produce this reproduction. This replica was presented to the museum on the annual New Year's reception which was co-hosted by the Museum and Sidestone Press.
More photos of the production of the sword and its presentation, see the album at our Facebook page